HOW CAN TECHNOLOGY HELP ADDRESS THE PROBLEM OF SMOKING?
It is a well known fact that smoking is harmful and causes serious disease. But many will continue to smoke, despite knowing the health risks. Science and technology have enabled the development of smoke-free alternatives, which although not risk-free, can be a better choice for those adults who don't quit cigarettes and nicotine altogether. These products have the potential to bring us to a future without smoke.


According to an international survey featuring participation of over 44,000 adults across 22 countries, 79% agreed that adults who continue smoking should have access to accurate information about better alternatives.*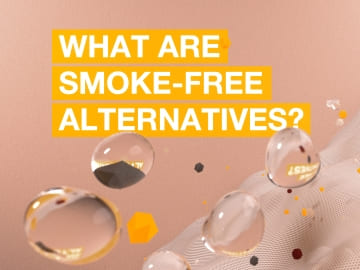 WHAT'S WRONG WITH BURNING?

A burning cigarette releases over 6,000 chemicals, many are harmful. It's the high levels of these harmful chemicals present in cigarette smoke that are the primary cause of smoking-related diseases.


When you remove burning, it's possible to significantly reduce exposure to these harmful chemicals. Alternatives to continued smoking that don't burn exist—such as e-cigarettes, heated tobacco products and oral smokeless products.​ These alternatives are not risk-free and provide nicotine, which is addictive.​
WHAT ARE SMOKE-FREE ALTERNATIVES?
It is the harmful chemicals in the smoke of a burning cigarette that are the primary cause of smoking-related diseases. 


Cigarettes burn tobacco and smoke-free alternatives don't. That's why they generally contain significantly lower levels of harmful chemicals compared with cigarette smoke. Of course, this needs to be substantiated on a product-by-product basis.
Smoke-free products are not risk-free and contain nicotine, which is addictive. The best choice any smoker can make is to quit tobacco and nicotine altogether.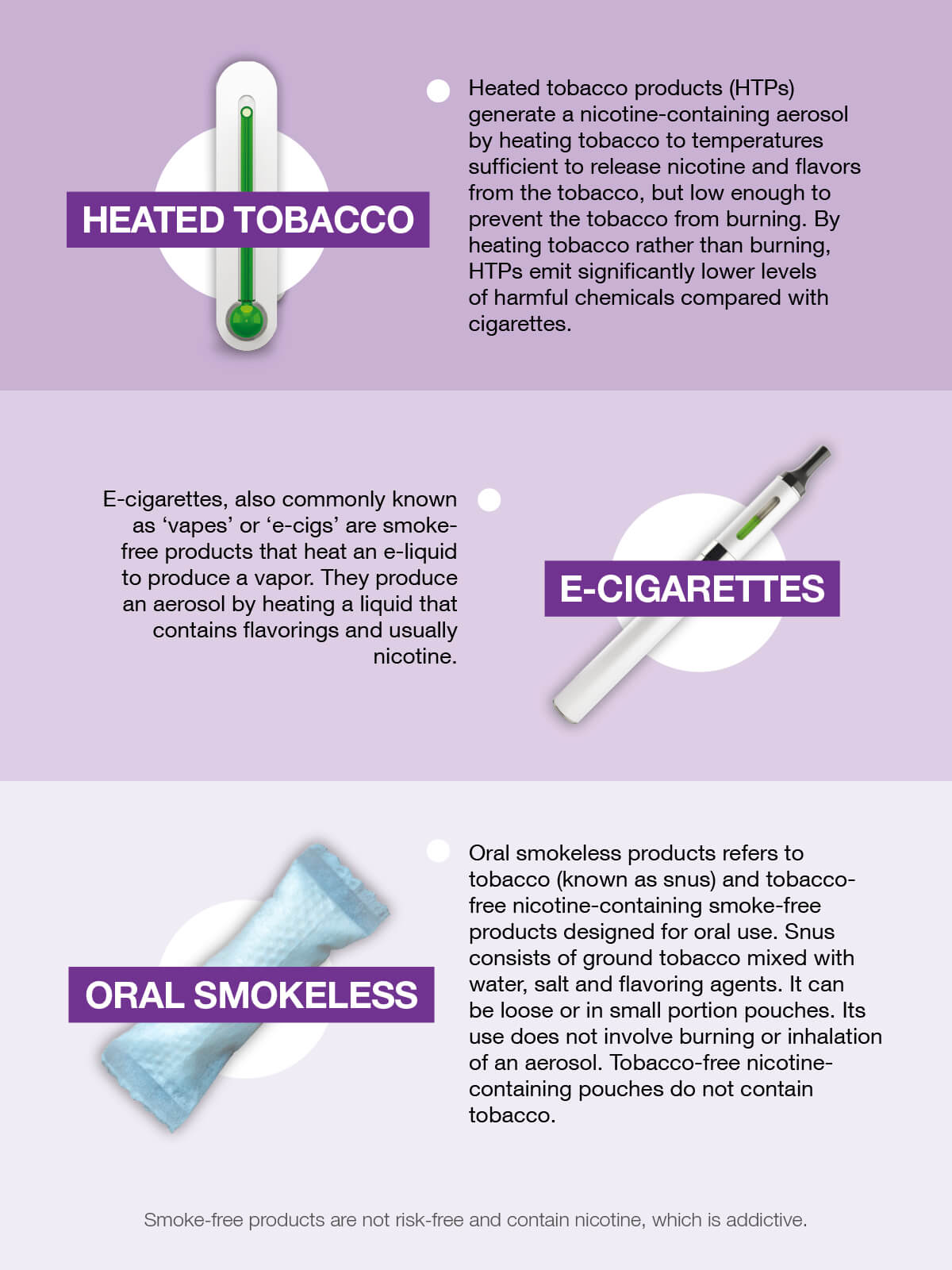 Nicotine is a naturally occurring substance found in some plants, most notably in tobacco. It is one of the reasons why people smoke, alongside factors like taste and ritual.

There are often misconceptions about the role of nicotine in causing harm.

Although nicotine is addictive and comes with its own health risks, a number of public health authorities have noted that nicotine is not a carcinogen and it's not the primary cause of smoking-related diseases.
*Povaddo conducted this online survey on behalf of PMI between Feb. 5 and 23, 2022. The survey was fielded among 44,622 general population adults aged 21 and older in 22 countries: Argentina, Brazil, Bulgaria, Colombia, Costa Rica, Czech Republic, Dominican Republic, France, Germany, Greece, Italy, Japan, Malaysia, Mexico, Philippines, Portugal, Serbia, South Africa, South Korea, Spain, United Kingdom, and United States.